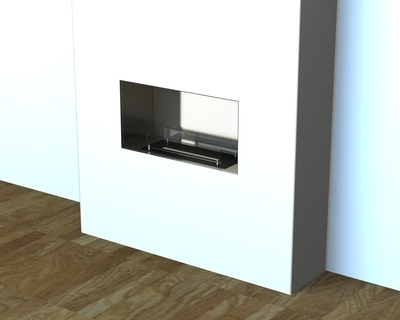 Hole in the Wall Stainless Bioethanol Insert and Large Stainless burner
This is a stunning hole in the wall bio ethanol fire, designed around our large drop in burner. This is perfect for those wanting a contemporary looking bio ethanol fireplace.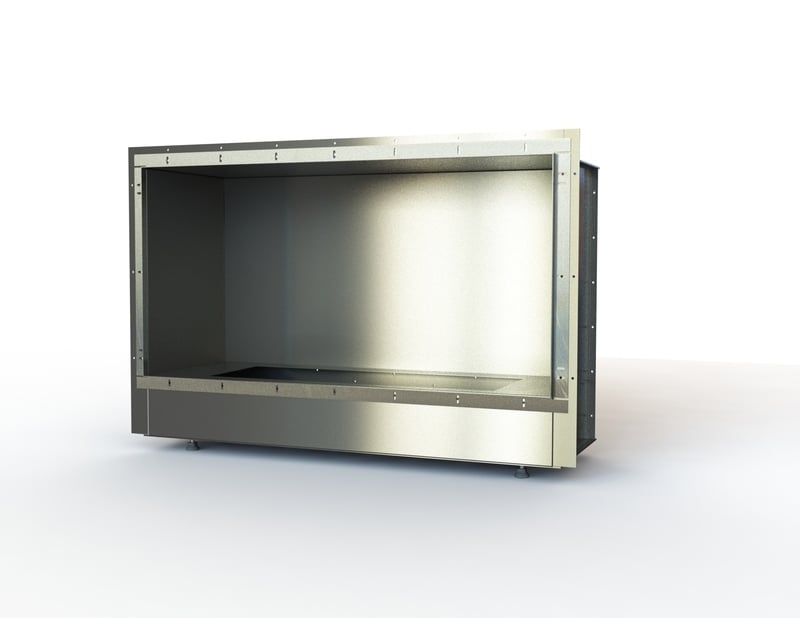 Internal Dimensions: 800mm (W) x 400mm (H) x 300mm (D)
Insert
This beautiful framless bioethanol insert is constructed from 2mm stainless steel. 10mm of double-sided, aluminium foiled covered glass fibre insulation is included to the back and sides of the insert. A 42mm flange around the front edge of the insert aids easy installation and mounting of fire-proof plaster board. Allowing plastering up to the edge of the insert to give a frameless finish.
Burner
Included is a large stainless drop in back bio ethanol burner. The burner is located in the bottom of the bio ethanol insert.. Within is the absorbent ceramic core providing an efficient clean burning burner, allowing all the ethanol within to be consumed. No fuel is visible and under a slope no liquid will flow out. Ceramic bio ethanol burners are easy to light and will light first time when full of fuel. This is not always the case when compared to open trough burners. Two pieces of glass are included with the burner, these should be mounted on the burner within the enclosed mounting brackets and used if no fuel effect/ decoration is purchased. The glass stabilises the flame vertically within the insert. If you wish to use pebbles or logs on top of the burner then the glass should be removed, the fuel effects will also stabilise the flame.
Burner performance
Capacity 2.5Litres
Burn Rate 0.47 litres per hour,
Flame Length 320mm
Size of burner 575mm (L) x 200 mm (W) x 80mm (H)
Ventilation - Although no chimney or permanent flue is required for bio ethanol fires, consideration should be given to ensure adequate ventilation is provided. This fire requires a minimum room size of 35m2 and the room has to be ventilated with fresh air at least once per hour. This can be achieved with the opening of an internal door or window.

Fuel Effects
Additional fuel effects are available for the fire. A choice of pebbles or brown/ silver birch logs can be used with the fire to determine your overall style of the fire. Please note the fuel effects should be placed around the flame and not within. They are to be used for decoration purposes only.
For more information regarding this fireplace please give us a call.
Read the attached PDF for general installation and conditions of use.
An example of how the stainless steel insert has been installation can be seen below: